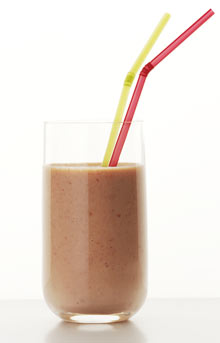 I soak the goji berries overnight until they become plump, and add them to other berries and yoghurt: a winning combination of superfoods. Serves one generously.
1 generous tbsp goji berries, soaked in water overnight and drained
30-40g fresh raspberries
3 large strawberries, stems discarded
1 tbsp manuka honey
3 tbsp goat's milk yoghurt
1 tbsp coconut oil
240ml unsweetened almond milk
Blend everything together in a powerful blender until completely smooth and drink.